Lusitania Exhibition
Visit the upgraded lusitania exhibition:
Learn all about the ocean liner that was sunk by a German torpedo at our recently upgraded Lusitania Exhibition. Cobh was at the centre of rescue efforts and launched a flotilla of rescue boats, saving 761 people.
About Lusitania & Cobh…
On May 7th 1915 the Cunard liner Lusitania was en route from New York to Liverpool, having maintained her Atlantic passage service despite the outbreak of war.
The liner, with 1,959 people on board, was about 16 Kms (10 miles) off the Old Head of Kinsale and travelling at 18 knots when she was struck by a torpedo from a German submarine U20. Once damaged, the Lusitania quickly listed to one side, making it difficult to launch lifeboats. A few days earlier the German government had taken advertisements in the American newspapers: view notice below:
---
NOTICE!
TRAVELLERS intending to embark on the Atlantic voyage are reminded that a state of war exists between Germany and her allies and Great Britain and her allies, that the zone of war includes the waters adjacent to the British Isles; that, in accordance with formal notice given by the Imperial German Government, vessels flying the flag of Great Britain or any of her allies are liable to destruction in those waters and that travellers sailing in the war zone on the ships of Great Britain or her allies do so at their own risk.
IMPERIAL GERMAN EMBASSY Washington, D.C. April 20th 1915  
---
The Lusitania sank in just 91m (300 ft) of water. A flotilla of rescue boats were launched and 761 people were saved. The majority of the 1,198 passengers who lost their lives were never recovered.
The survivors were ferried to Queenstown and were accommodated in local hospitals, lodging houses and private homes.
Nearly three days after the sinking of the Lusitania 150 of her victims were buried in mass graves in the Old Church cemetery, 1 mile north of Queenstown. 80 of them were never identified.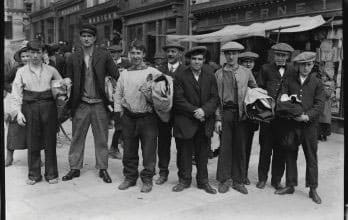 This is a self-guided tour but we have audio units available in English, French, German, Dutch, Italian, Spanish, Polish and Hebrew. 
COBH HERITAGE CENTRE
FOLLOW US